Moderator: baadc0de
---
---
Hehe mam malo spring cleaninga pa sem zložil mojo blood angels vojsko skup za eno gasilsko. No ja tu notr se skrivajo enote še iz časov tretje edicije ko sem kot mulc zacel zbirat to vojsko. Pomojem tam v letu 2003 ko sem si nabavil prvi tactical squad in tastare terminatorje. Takrat so bili še na tamalih bazicah. Tule jih žal ni na sliki. Vse je v procesu modernizacije na sodoben gw standard. Vsi se nimajo tanovih bazic. Prav tako je praktično vse wip. Gre pa za od leve proti desni... oddelek 15x death company marincev z tremi chaplaini ter death company dreadnoughtom. Desno je nabran 1st demi company z 19x terminatorjev, 5x sternguard veteranov ter se 5x tastarih kovinskih vanguard veteranov. Vodijo jih captain Karlaen ter librarian in chaplain v termi armourju. Poleg njih so se trije dreadnoughti. 2x furioso in 1x rifleman dread. Za njimi je eskadrilja dveh stormravenov. No v sredini pa glavnina vojske. Peti company blood angelov katere vodi Captain Sendini s svojim command squadom, librarianom ter chaplainom. Za njim stojijo trije tactical squadi trije assault squadi ter devastator squad s svojim voznim parkom, rhinoti/razorback((4x). Desno pa je zbrana vsa podpora s strani armoriuma ter fragment 10companyja. Skratka deset skavtov predator, vindicator, whirlwind ter trije baal predatorji v ozadju. V ospredju je se librarian dreadnought ter dva sanguinary priesta. Desno od sredine pa je se dante s svojimi sanguinary guardi, sanguinorjem ter mephistonom. No skratka to so vsi moji blood angeli ki se borijo po bojiščih 40kja odkar sem začel s tem hobijem. Sicer so me vmes za momente premamile se druge vojske kot so imperial guard, sons of medusa ter adeptus mechanicus a vedno se vrnem nazaj do telih.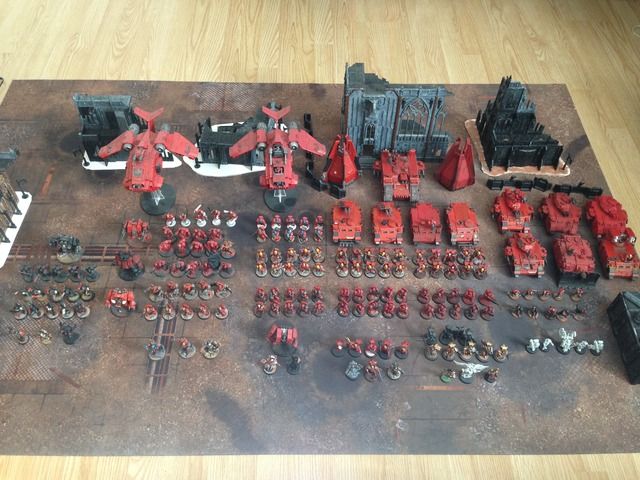 ---
Posts: 3430
Joined: Thu Jan 30, 2014 10:08 pm
O Marija in Jožef, tole je pa carsko....
---
Aleluja! Tkole pošlihtani zgledajo vredni emperorjevega blagoslova.
---
Posts: 3430
Joined: Thu Jan 30, 2014 10:08 pm
Vajini vojski na lepi mizi pa bi bilo nekaj kar bi človek želel videt, zgolj namig
---
---
---
Posts: 1015
Joined: Wed Feb 19, 2014 5:19 pm
Postaven poba, ni kaj
Our crops will wither, our children will die piteous deaths and the sun will be swept from the sky.
- Tom Kirby, CEO of Games Workshop, 2014 Annual Report Preamble
---
---
Who is online
Users browsing this forum: No registered users and 4 guests