V Zagrebu bodo 22.4.2017 imeli enodnevni turnirček. Če koga zanima, tukaj je več podatkov:
https://www.facebook.com/events/276984449423152/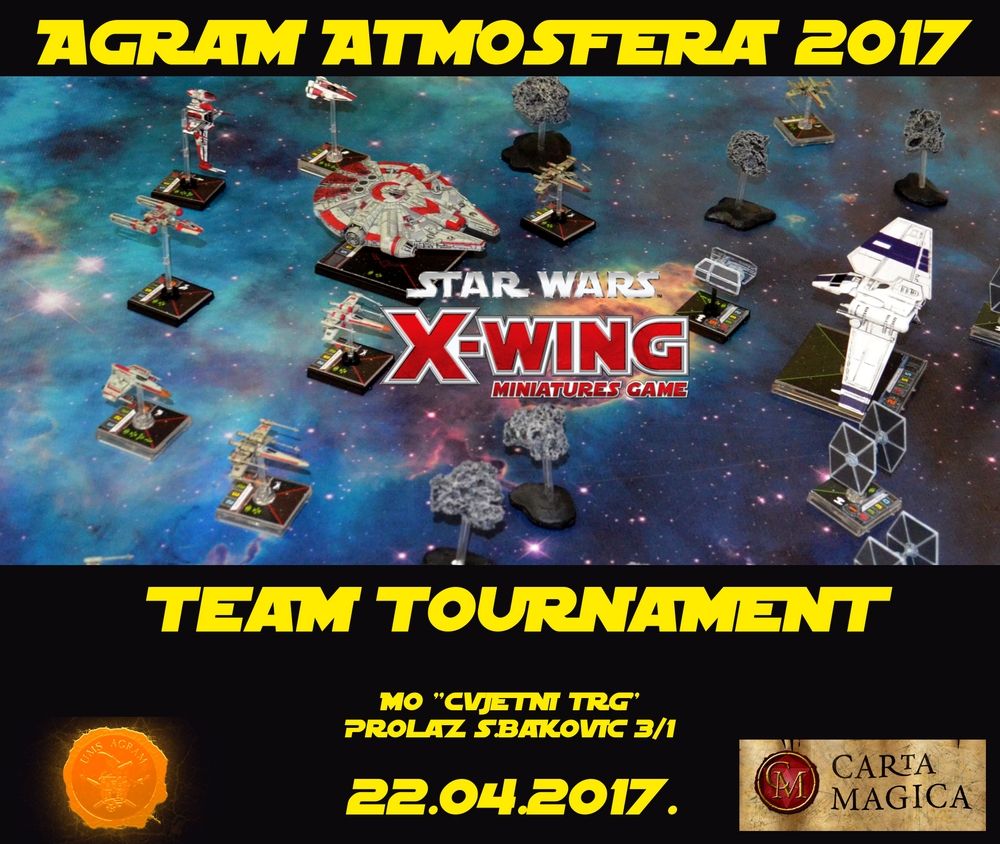 Tier of play for this tournament is Relaxed.
The tournament will follow the latest available version of the official FFG Tournament
Regulations and FAQ/Errata which can be downloaded from the Support >Tournament Resources section of the official FFG website:
https://www.fantasyflightgames.com/en/products/x-wing/
The X‐Wing tournament will be played over three rounds.
The pairings for the first round will be randomly determined and in the later rounds, the Swiss system will be applied.
The use of proxies is strictly prohibited.
Every player must have original models and cards matching the list he/she is playing. Every player must bring his own basic set needed for playing the game – dice, tokens, range rulers, templates, obstacles etc.
Special Team Rules:
• Each team consists of exactly 2 players.
• Each player on a team brings his own 100 point squad list to use throughout the tournament.
• Players on the same team are allowed to use different factions; allowed combinations are: Rebel-Rebel, Scum-Scum, Empire-Empire, Rebel-Scum, Scum-Empire. Combination of Rebel-Empire is NOT allowed.
• In order to promote list diversity, players on the same team are NOT allowed to use same ship types. For example if player A has a TIE Fighter in his/her list, player B is not allowed to use any TIE Fighters in his/her list.
• Players are not allowed the use of the same named unique character/upgrade cards. For example if player A has a Luke Skywalker pilot in a X-Wing, player B cannot have Luke Skywalker as crew on his Millenium Falcon.
• Asteroids/debris are chosen and placed as a team, so both players should have the same markers chosen on their list. Placement and amount are the same as in 1v1 regular game (3 per side, teams take turn placing them on the play area).
• Team members are allowed to share information and show each other the maneouvers they have chose on their dials.
• Each player is only allowed to set dials, move, choose actions and roll dice for the ships on his respective list.
• Both players on the same team use one damage deck which they share.
During registration, each player is reuired to submit a copy of his/her printed squad list. To create a squad list, players can use the official FFG Squad List Sheet:
https://images-cdn.fantasyflightgames.c ... sheet2.pdf
or an online squad builder such as Voidstate's Squad Builder:
http://xwing-builder.co.uk/build
Make sure to include in your list the three obstacle tokens(asteroid/debris) you will be using as they cannot be changed at a later point throughout the tournament.
SCHEDULE:
09:30‐09:55 Registration
10:00‐11:40 Round 1
12:00‐13:40 Round 2
14:00‐15:00 Lunch break
15:00‐16:40 Round 3
Playmats will be provided by the tournament organizer.
Players are encouraged to be civil to each other and to adhere to the time schedule so the tournament runs smoothly.
Stalling is strictly forbidden.