Moderator: baadc0de
lol
Never interrupt your enemy, while they are making a mistake!
---
Še eno vprašanje. Mi smo do sedaj igrali tako, da ko model začne z attacki, mora le te vse izvest na enem mestu. Torej ne sme med tem izvest advance in tepst malo na začetku in malo na koncu advance actiona. Ampak jaz tole nikjer ne najdem v pravilih... Pa tud en br sem gledal, kjer sta oba tako igrala, da je model najprej udaril in ubil enga bolj pr koncu, potem se je premaknil in še parkrat prheftal drug model. Če kdo ve, kje v pravilih je to opisano, pol naj prosim napiše. Ker koliko jaz berem pravila, lahko model dela actione v katerem koli vrstnem redu. Advance, attack, kick, character play itd. so pa vse actions.
---
Tole sem že pri tisti igri s Tevžom vprašal ampak je bilo takrat rečeno, da ne moreš. Treba vprašati na official GB forum.
---
Saj pravim, po pravilih jaz razumem tako, da lahko movaš med attacki, sem pa tud našel tole v FAQ za Berserk:

"The free attack does not have to be against the same target, or even immediate – you can move before taking it if you are eligible."

Tak da če lahko med berserkom narediš move, pol lahko tud med navadnimi attacki.
---
Hey guys - you can attack, move, and attack again somewhere else. The only restrictions are:
1) Once you advance (jog/sprint/charge), you cannot advance again (without some special rule or play, like Second Wind).
2) You cannot interrupt one action with another action. A models' advance is an action - so if you stop to attack or use a character play in the middle of movement, it effectively ends your movement.
Upam, da pomaga
---
Pomaga, hvala!
---
danes sva imela s Tilnom podobno situacijo -
http://forums.steamforged.com/index.php ... ing-speed/
Ramming speed - lahko rukneš nasprotnika, da odleti 2'' stran, nisi več "engage" (velja samo če ima nasprotnik 1'' range) zato ne dobiš "parting blow", se potem sprehodiš do drugega in ga lopneš po buči
hehe ni slaba
---
I present to you, the Guild Box!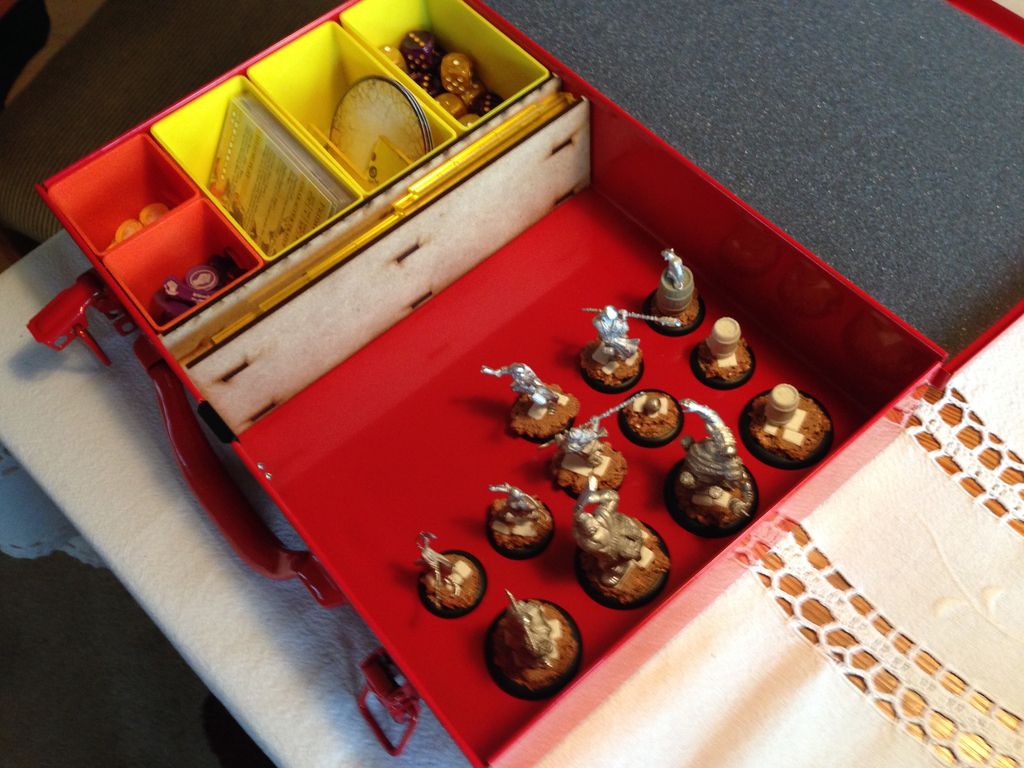 ---
Informacija za vse, ki bi si želeli izdelat terenčke za guild ball. Pri meni dobite MDF podloge za vse tipe terena, ki so definirani v rulebooku. Velikosti so tudi poštimane tako, da bo vse tournament legal. Dobite jih zastonj.
---
Jaz bi pripravil teren za eno mizo in potrebujem MDF podlago za :
2x rough ground
1x fast ground
1x forest
2x obstacle (zid)
4x obstruction (crates - tamali 2x2 inch)
---
Who is online
Users browsing this forum: No registered users and 1 guest