Search found 397 matches
by MrZombie

Sun Mar 15, 2015 11:26 pm
Topic: MrZombie's project log
Replies: 199
Views: 32156
Evo sem mu weathering dokoncal. Mal mam slabo svetlobo tu sam tu pa tam se pa vidi kak detajl.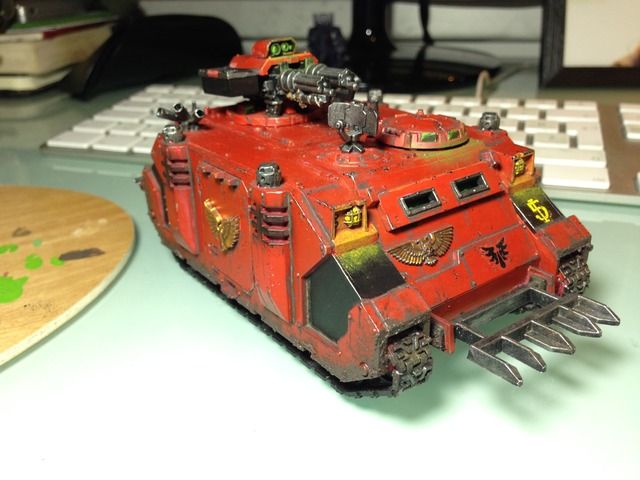 by MrZombie

Wed Mar 11, 2015 10:39 pm
Forum: Warhammer 40.000
Topic: Iron hand lista help
Replies: 12
Views: 3009
Lahko mogoc jst malo komentiram. Lista se mi zdi kul edino kar bi jst naredu, glede na to da imaš plan bolj shooty listo imet, ti priporočam da razorbacke opremiš z lascannoni/twinlinked plasmagun, maš večji doseg z lascannonom pa še bolj nevaren shooting. Plasma kanoni pri tactical marincih se meni...
by MrZombie

Mon Mar 02, 2015 7:14 pm
Forum: Warhammer 40.000
Topic: Kako izbrati vojsko v 40k
Replies: 22
Views: 4754
Kaj pa harlequins? Je tazadnja vojska ki je prišla ven. Sicer nima kaj veliko raznolikih enot so pa zato le te tolko bolj barvite. Njihova taktika pa je podobna eldarski ( v bistvu so to eldarji sam mal bolj elitni), torej hitra vozila ki cimhitreje pripeljejo enote v close combat. Pravil sicer še n...
by MrZombie

Thu Feb 19, 2015 10:15 pm
Forum: Novice
Topic: WH40K: Nova rasa (Skitarii)
Replies: 54
Views: 16157
Thats what you get for leaving the emperors light. Loneliness and eternal damnation!
Ne pa sej boste dobli nove khorne enote za kaki dark mechanicus bo pa najbrz se treba pocakat mal.
by MrZombie

Sun Feb 08, 2015 7:30 pm
Forum: Warhammer 40.000
Replies: 27
Views: 6209
prva prilika da sprobam nove blood angelse.
mogoce pridem nevem se.
by MrZombie

Mon Feb 02, 2015 1:35 pm
Forum: Warhammer 40.000
Topic: Ork ETC vojska
Replies: 7
Views: 2246
Tok casa jst rabm tut za normalno igro.